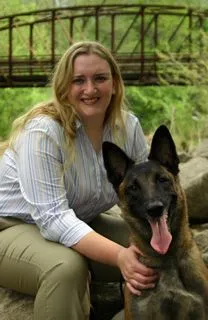 Dr. Jones and her dog Fawkes
(Ordre du Phenix du Dantero FR Br, MR 1, IPO APR 2, PSA PDC, BH, WH, AD, DM, EV Top Gun, SR Turbo, BA Senior, HIC, TDI, CGC, TT)
Dr. Maren Bell Jones is currently a resident of Elbert, Colorado. She received bachelors degrees in biology and religious studies, a masters degree in biological sciences, and a doctor of veterinary medicine degree all from the University of Missouri. Her professional interests include nutrition, behavior, sports medicine/rehabilitation of performance and working dogs, reproduction, and holistic medicine.
Dr. Jones is a member of the following organizations:
American Veterinary Medical Association
American Holistic Veterinary Medical Association
Veterinary Information Network
American Veterinary Society of Animal Behavior
Association of Pet Dog Trainers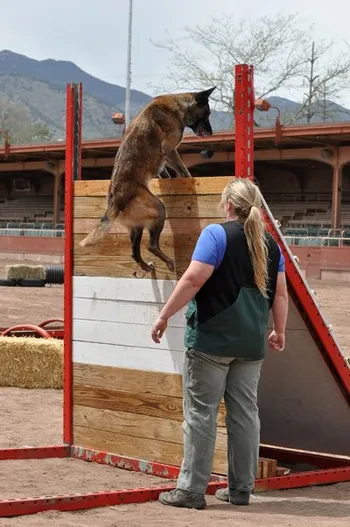 Dr. Jones competing at the 2014 Mondio Ring national championships in Colorado Springs with her dog Fawkes
Dr. Jones spends most of her free time training in a variety of working and performance dog venues. She has trained in protection sport (French Ring, Mondio Ring, PSA, and Schutzhund), dock diving, herding, therapy, agility, disc, and Dog Scouts. Her current dogs include Fawkes (15 year old Belgian Malinois), Arya (11 year old Belgian Malinois/Siberian husky mix), and Jackal (8 year old Belgian Malinois). She also has two lynx point Siamese cats named Walter and Musashi, and a few wonderful backyard chickens. She also enjoys hiking especially in the Rocky Mountains, reading, film, and spending time with her husband.