Our pets bring us unconditional love and support. Unfortunately, they do not live forever and one day we must make the difficult decision to ease their passing.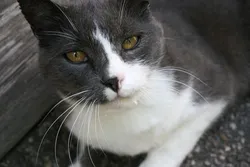 What is hospice or end of life care?
The term "hospice care" can invoke many feelings, particularly if you have had a family member or friend in human hospice care. For our animal family members, it means addressing their quality of life until it is time to say goodbye. This time can be a few hours or days in duration to months or even years. In some instances, a diagnosis with a poor long term prognosis does not mean the pet's quality of life is immediately unacceptable. For example, a cat with chronic kidney disease may be maintained comfortably for months or even years with proper care. We take a holistic approach to end of life care and try to meet the medical, physical, and emotional needs of both the pet and the owner. This can include:
Pain: many geriatric patients of all species suffer from arthritis or pain from neurological disease or cancer. A decline in mobility can make the difference in whether the quality of life is acceptable or not. Fortunately, many approaches are available to use to help manage pain in our patients, including modalities like therapeutic laser therapy and medical massage therapy to keep an older pet feeling and moving their best
Nutrition: Animals in pain or who feel sick often do not wish to eat and an pet's poor appetite is often cited by owners as part of the decision to euthanize. Using both commercially available diets or a home prepared diet, we can address the nutritional needs of the patient.
Medical Management: Many medical conditions that require professional treatment can be addressed during a house call, such as administration of fluids, medication, or nutrition via a feeding tube.
Psychological Management: We now know that animals can suffer from many of the same signs of aging as humans. Many elderly dogs show signs of canine cognitive dysfunction, which is similar to Alzheimer's disease in humans. Signs include acting lost or confused, personality changes, urinary or fecal incontinence or changes in housebreaking, sleep disturbances, or even fear aggression. While these signs cannot be reversed at this time, some supplements are suggested to be helpful in slowing its progression.
Crossing the Bridge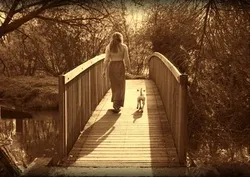 How do you know when it's time?
This is an intensely personal decision that will be different for everyone. No matter when that decision is, you know your pet better than anyone. There is no right or wrong answer. One method is to make a list of the top five things your pet really enjoys doing. For example, a dog might enjoy going for car rides, playing with the kids, chewing on her favorite toys, chasing her ball, and going to the park. If she can no longer do or no longer enjoys three or more of her favorite activities, it may time to start thinking about concerns about quality of life. Again, this is just an example and it will depend on both you and your animal.
What should I expect from an at home euthanasia?
Your pet can have a special meal or treats right beforehand, though it is advisable to keep them on their regular diet more than 12 hours in advance to avoid digestive upset. First, we will discuss with you the process. We can perform the procedure in your home, in your backyard, in your car, or even near a quiet park or woods.
Your pet will then receive an injection of sedative under the skin. We typically use a combination of anti-anxiety medication and pain medication along with the sedative itself so your pet is as comfortable and calm as possible. Owners with pets that have had a long, chronic terminal illness often mention that their pet is looking as comfortable as they have seen them in months.
Depending on the pet's medical condition, we may place an IV catheter once your pet is sleepy and relaxed. The IV catheter is typically placed in one of the back legs if possible so you can be comfortable near their head. Usually the catheter is placed with little difficulty, though occasionally due to illness, dehydration, and advanced age, we occasionally have to try a different vein. Once we start the IV, two medications are then used. An anesthetic just like what is given before surgeries is first given and the euthanasia drug that stops the heart is given after. The process is generally fairly fast when using the IV solution and they will be completely unconscious when given the last injection, so your pet will not feel any pain. They may sigh, vocalize, contract their muscles slightly, or void their bladder or bowels, though often they pass quickly and peacefully.
For very ill or old cats, rabbits, and other small mammals, their veins may not accommodate an IV catheter. The euthanasia solution is injected painlessly into the abdomen under deep sedation and they will fall asleep in your arms and pass on after 5-10 minutes.
During the process, you may take as much time before and after the procedure is performed to be with your beloved pet.
Who should be present during the procedure? Is it okay to have my children or other pets be a part of the process?
This is completely up to you. If you and your family wish to be with your pet during their final moments, that is fine. If you do not and wish to step out of the room before the last injection is given, that is perfectly fine too. Whether your children can observe is also up to you. Dr. Jones has previously worked with children from infants to 10+ years for nearly two decades. Our experience is that simple honesty in the proceedings is best, whether you chose for them to watch or not. Even if they are not part of the actual euthanasia, it is often helpful for children and teens to be part of the grieving process. This could include writing a letter to the pet to be buried with them or sent for cremation, painting the clay paw print when it is dry, or helping design a shadowbox with some special mementos like photos, a lock of hair, or the pet's collar.
We generally recommend that other pets not be immediately present during the procedure, but many animals seem to accept the process if they can see their companion afterwards.

How much does it cost to perform an at home euthanasia?
The price of an at home euthanasia is variable depending on the size of your pet, your wishes for cremation if desired, and your location. Please call us at 719-920-8269 for rates based on your address. We're located in the Black Forest area northeast of Colorado Springs and serve up to an hour away. The price of the euthanasia includes the fee for the house call, consultation, assessment, sedation, placement of an IV catheter if necessary, and the euthanasia itself. You will also receive a clay paw imprint or ink paw print as a special keepsake.
I live outside of Colorado Springs. Do you service my area?
Our practice is based out of Black Forest, Colorado about 25 minutes northeast of Colorado Springs. We travel up to an hour from Black Forest. These areas include (but are not limited to):
Colorado Springs, Manitou Springs, Woodland Park, Elbert, Monument, Peyton, Falcon, Larkspur, Palmer Lake, Elizabeth, Kiowa, Franktown, Castle Rock, Simla, Ramah, Calhan, Ellicott, Fountain
Do you perform emergency at home euthanasias?
Yes, though if your pet's health is in decline and you feel euthanasia may be imminent, please contact us as soon as possible so we can counsel you and plan ahead for what your wishes are. This is much less stressful for both you and your pet. If your pet requires an emergency at home euthanasia performed because of sudden catastrophic injury or illness and transport to a veterinary emergency hospital is not feasible, the fee is an additional $100* in addition to the standard rate after 7 PM or on weekends and will be performed as our schedule allows. For safety reasons, we cannot perform euthanasias of non-regular clients after 10 PM on a house call.
What kinds of animals will you euthanize at home or on the farm? Do you do exotic pets or large animals as well?
While cats and dogs are the most common, we can also help with your pet rabbit, ferret, guinea pig, reptiles such as snakes and lizards, pocket pets like rats, mice, hamsters, bird species such as chickens, goats, sheep, llama and alpacas. Unfortunately our insurance prevents us from performing euthanasia of large farm animals such as horses, cattle, and pigs.
Aftercare
What are our options for aftercare for our pet's body once the euthanasia is complete?
This depends on your wishes. Some areas or home owners associations permit burial of a pet in the backyard as long as it is dug deeply enough. Others do not. As a general rule, pets under 20 lbs such as smaller dogs, cats, rabbits, ferrets, and other pocket pets should be a minimum of 3 feet. Larger dogs, sheep, goats, and so on should be a minimum of 4 feet. If you are need of assistance in burying a pet, particularly large animals that may need special equipment to dig, you can contact Brian Bullock of High Ridge Services based out of Black Forest. His number is 719-659-1244.
We primarily work with Peaceful Memories Pet Crematory in Colorado Springs. They use an eco-friendly aquamation process which you can read more about at their website. If you prefer flame cremation for your pet, Lasting Paws is also in Colorado Springs and we can make arrangements through their service as well. We have found through the years that the majority of pet owners prefer us to transport their pet for cremation so they can grieve at home. We provide transport and bring your pet's ashes back to you personally or to your regular vet, depending on your choice and location.
What are some resources for handling the grieving process?
I recommend the book Going Home: Finding Peace When Pets Die by Jon Katz (Random House, 2011). A beautiful video preview can be found HERE
How to Book At Home Euthanasia Services
I think we're ready to book an appointment for a hospice consult or at home euthanasia. How do we do that?
Feel free to call or text at 719-920-8269. As a courtesy to other patients, calls are not answered while Dr. Jones is with another client or while driving, so please leave a detailed voice mail and/or text message. Calls and texts are generally answered during business hours either same or next business day. To provide you with timely service and an accurate price quote, you may fill out our short questionnaire found HERE to expedite communication.