My Philosophy: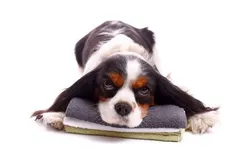 Many pet owners are interested in holistic veterinary medicine options for their pets in addition to traditional or "Western" medicine.
When most people think of holistic medicine, they think of acupuncture, supplements, herbal medicine, traditional Chinese medicine, chiropractic, or other therapies or modalities. My personal philosophy is that holistic medicine is really not about what modality you chose to use, but that you see the patient as a whole instead of as a number or a series of diagnostic tests. Just as each patient is different, each owner is also different so I look at the whole picture. In addition, I put a lot of emphasis on preventative health and wellness to avoid disease in the first place.
I was trained as a biologist before I was trained as a veterinarian, so I believe in a science and evidence-based approach using the latest research to blend the best of conventional and alternative medicine. This approach is what puts the "whole" in holistic in my practice philosophy.
-Dr. Maren Bell Jones

Our Holistic Services:
Laser Therapy: Laser therapy has been used in people since the 1980s and in animals for about 15 years. Laser therapy uses a specific wavelength of light to stimulate the mitochondria in the cells to produce more ATP. It also helps increase circulation. This decreases inflammation and pain and encourages healing. This is particularly helpful for arthritis, wounds, after surgery, and ear infections.Laser therapy is non-painful, non-invasive, fast (a treatment usually lasts less than 15 minutes), and drug free. It can be used with any medication or rehabilitation protocol. I use the Multi Radiance Medical MR4, which is the same model used by veterinarians at the World Equestrian Games and by over 50 different college and professional sports teams.
Read about Mo the cat (pictured below receiving a laser therapy treatment on his spine):
"My precious Maine Coon cat, Mo, was getting older and I knew there would be changes, yet it was so hard to see him walk with his tail dragging and his rump curled downward. He would hide away for hours and I knew he was in pain. I was quite skeptical of laser treatments Dr. Jones recommended, and really didn't want to pay for something that looked so easy. However I agreed to do a series of treatments last summer, and it has become obvious that it works: When Mo went outside last fall, he would take off at racecar speed and charge up a tree like a kitten. Now he regularly prefers to jump on the freezer to eat, rather than be fed on the floor. I recommend to you that it is worth a try to help your pet have some relief." --Ruth Anne S.
Nutrition: This is the single biggest area of emphasis for our practice. Good nutrition is the keystone for the health and wellness of every animal. Because the needs of every animal and every owner are going to be different, we take a highly personalized approach to nutrition. Whether you are interested in commercial or home prepared, cooked or raw, we offer guidance for all life stages as well as nutritional management for various diseases.
Acupuncture: A very popular modality in both people and pets, acupuncture uses very small, flexible needles placed right under the skin to stimulate a response within the body. Used for thousands of years in Asia for many disorders, diseases, and ailments, our practice primarily uses acupuncture for its benefits in neurological and orthopedic cases for pain relief and mobiity.
Vaccine Protocols/Titers: These are tailored specifically to the individual needs of your pet to make sure they are protected with the best and safest technology available while minimizing the risks of over vaccinating. Please see this article for more information on our vaccine philosophy and protocols
Supplements & Herbal Medicine: Interested in trying supplements for your pet but not sure where to start? There are so many out there on the market with very little regulatory imput, it can be overwhelming trying to figure out which to try and which to avoid. Herbal medicine in particular can be very complicated. In case we do not know the answer to your questions, we have relationships with other holistic practitioners that do.
Medical Massage: We integrate some level of medical massage for animals in nearly all appointments as part of our physical exam of your pet. Not only do the motions lessen anxiety, but it also gives us valuable diagnostic information. Massage for animals is very gentle and relaxing and particularly beneficial to elderly pets or canine athletes. When performing massage, feedback from the pet is always used to adjust to their level of comfort. While chiropractic may have its place in certain cases, medical massage for animals uses gentle strokes instead of high velocity manipulations. This is particularly important for working with patients that, unlike humans, cannot tell us what hurts.
At Home End of Life Care & Euthanasia: A poor prognosis doesn't always have to mean goodbye right away. We honor the human animal bond by emphasizing quality of life through pain management, nutrition, and promotion of mobility for as long as possible. We also acknowledge and respect that knowing when the time is right is going to be different for everyone.