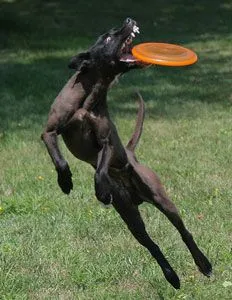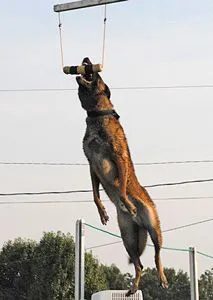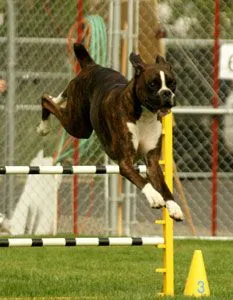 Is your dog a working dog, performance dog, hunting dog, or a very active pet? Having grown up with hunting dogs and competed in protection sport (Mondio ring, French ring, PSA and Schutzhund), dock diving, herding, therapy work, agility, carting, disc, and other canine sports with her own dogs, Dr. Jones understand that the needs of a canine athlete may be different than of many pet dogs.
While having a strong interest in rehabilitation and sports medicine for performance and working dogs nearly 10 years, starting in 2015 Dr. Jones is currently working on completion to be a Certified Canine Rehabilitation Therapist (CCRT) through the Canine Rehabilitation Institute. This program is approximately 120 hours of in class and hands on instruction into the science of rehabilitation and sports medicine, completion of three final examinations, and a 40 hour externship in canine rehab and sports medicine.
In addition to attending lectures and seminars with some of the most renowned experts in canine orthopaedics and sports medicine, she has also received additional externship training in rehabilitation and nutrition at the University of Tennessee (the only academic veterinary rehabilitation certifiying institution) and extensive continuing education in medical massage and laser therapy from Colorado State University.
As valuable as in class instruction is, what makes our sports medicine and rehab practice different is that Dr. Jones actually trains and competes with her own dogs as high as the national level in multiple sports (protection sports and dock diving), so we totally understand what it means to get your canine athlete performing at their best.
Dr. Maren Bell Jones and her current competition dog Fawkes
Ordre du Phenix du Dantero FR Br, MR OB 1, PSA PDC, Sch BH, AD, WH, EV Top Gun, SR Turbo, BA Senior, HIC, TDI, CGC, TT
OFA Good Hips, Normal Elbows, Cardiac Clear, CERF
2012 PSA Central Regionals Competitor
2012 Dock Dogs World Championship Competitor in Extreme Vertical Top Gun
2013 Dock Dogs Central Regionals Competitor in Speed Retrieve
2014 United States Mondioring Association National Championships Competitor in MR 1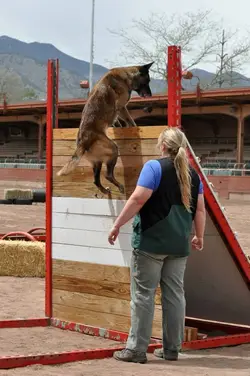 Whether your dog is an elite canine athlete competing at the highest level or just a dedicated jogging or hiking buddy, we use a holistic approach to keep your partner performing their best. This includes:
Diet: High quality nutrition is extremely important for the canine athlete. From commercial diets to home prepared diets, we can make recommendations based on the individual needs of your dog, including formulating a complete and balanced diet for your dog or your whole kennel. See the Nutrition page for more information.
Puppy and Young Dog Development: In almost every venue, owners want to start their young pup right away in their chosen activity. We can develop a plan to maximize training for your activity of choice while minimize the risk of injury to growing dogs.
Conditioning: It's been said that championships are won in the off season. Whether doing pre-season conditioning for competition or coming off an injury or surgery, two weeks of rest requires approximately eight weeks to regain full conditioning! We can design a personalized program for you and your dog to bring them to peak conditioning depending on the sport or activity for maximum performance.
Pre-exercise Stretching and Warmups: Human athletes know the importance of stretching, warm ups, and cool downs. Dogs also benefit from warming up and stretching before they exercise or about to perform, particularly if they are doing high impact activities like protection, agility, dock diving, and disc. Proper cool downs can also prevent soreness as well as life threatening conditions like heat exhaustion or gastric dilation and volvulus (GDV or "bloat"). We can show you simple stretches after a warm up before your dog competes to improve their performance and safety during training competition.
Laser Therapy: Low level laser therapy has been used in humans for approximately 30 years and in veterinary patients for the last 15. Laser therapy uses a wavelength of light that stimulates the production of ATP (energy) in the mitochondria of the cell in a similar way that plants use sunlight for photosynthesis. This promotes healing and decreases pain and inflammation. Laser therapy can be used with virtually every rehabilitation protocol and is not painful, non-invasive, and is compatible with drug and medication therapies. Laser is also excellent for warm ups and cool downs for high impact activities as well as after an injury. We use the same kind of super pulse high power laser that is used by over 50 college and professional sports teams and by veterinarians at the World Equestrian Games.
Medical Massage Therapy: Because dogs cannot tell us when they are sore after a hard workout, hunting trip, or training session and are often very stoic, they may have "hidden" or subtle musculosketal or nervous system conditions that can affect their performance. Using a combination of palpation to identify trouble spots or trigger points and a variety of soothing massage techniques, your dog can go back to feeling and performing at their best. Scheduling regular sessions also can help maintain a working or performance dog's life for longer. Also great for senior dogs to keep them feeling great for as long as possible!
Therapeutic Hyaluronic Acid (HA) Joint Injections: Very commonly used in equine performance medicine and in humans, joint injections are fairly new in dogs. The patient is sedated to be comfortable and hyaluronic acid (HA) is injected into the joint, such as the knee, elbow, or shoulder. This helps naturally lubricate the joint and replace some of the fluid lost through destruction of the cartilage after injuries or arthritis. The effects often last 3 to 6 months for better comfort and mobility. We are looking into also offering joint injections with platelet rich plasma (PrP) and stem cells as regenerative medicine in the very near future!
Gait Evaluation: By using videotape and gait analysis, we can determine if a dog's stride is off to help pin point a potential injury for treatment and recovery.
Pre-surgery Conditioning/Weight Loss: The rehabilitation process after surgery to correct an injury or abnormality is much easier for the dog and more rewarding for the owner if the dog is in good physical condition BEFORE surgery. This includes improving body condition score and muscle mass score by pre-rehabilitation exercises and nutritional management.
Hydrotherapy: While we don't have an underwater treadmill, we can teach you and your dog to use either your own pool or natural body of water for rehabilitation or conditioning. We can also refer you to practices and facilities that use underwater treadmills.
Pain Management: Whether from injuries or from chronic hard use, many dogs experience pain or arthritis as they age. We can keep our canine athletes working longer with less discomfort by controlling their weight and maintaining their muscle mass as well as using joint protective supplements, joint injections, medications, and a variety of other modalities. In the future, we hope to add medical acupuncture, and massage therapy for our patients!
For more information, check out DVM K-9, our Facebook page specifically addressing the health needs of the working and performance dog: https://www.facebook.com/DVMK9
Dr. Jones will also be glad to speak to your breed club, training group, 4H group, Boy Scout and Girl Scout group, and so on about many topics of interest to dog owners. She is an AKC Canine Good Citizen evaluator and gives bite prevention in children presentations.
Dr. Jones will also provide on site first aid to canine events. What would you do if there was an accident at your event or trial? What if a dog fight broke out or a dog was stung by a bee? Would you know what to do or who to call? Whether it is for performance sport, working, hunting, conformation or for community events where dogs are likely to be, the organizers and participants of your event will be more comfortable knowing a veterinarian is there on site for first aid. Dr. Jones is licensed in Missouri, Colorado, and Illinois. Here is an example of some of the recent events she has been or will be the on site veterinarian for:
North American Ring Association National Championships, Chicago, IL October 2015
United States Mondioring Association National Championships, Colorado Springs, CO May 2014
Paws in the Park, Columbia, MO September 2013
PSA club trial, Cedar Hill, MO October 2012
North American Ring Association French Ring East Coast Regionals, Bourbonnais, IL, October 2012
PSA Midwest Regionals, St. Anne, IL September 2012
BARC in the Park, Columbia, MO May 2011
PSA Midwest Decoy Certification Camp, High Ridge, MO February 2012
U-FLI Flyball National Tournament of Champions, Gray Summit, MO November 2011
Please contact us at 573-639-9503 for more details and rates for your event.